"It's the possibility of having a dream come true that makes life interesting." — Paulo Coelho
I was born on the beautiful island of Antigua in the Caribbean. I was a curious child who loved science, reading and running around in nature. I also loved to draw and placed in several local and regional art competitions for kids. By the time I reached my teens, the only art I was creating were the doodles in the margins of my school notebooks.
What happens to a dream deferred?
I went to university and then I focused on building a career. I got a degree in computer science and accounting, and then pursued a designation as a chartered accountant. I worked in accounting and finance for almost a decade with "Big 4" accountancy firms Ernst & Young, KPMG and PwC. I then worked in management for another ten years, and was honored to have been awarded "Corporate Leader of the Year" by the St Lucia Chamber of Commerce.
In 2015, my life changed forever. A mutual friend introduced me to the man who would become my husband. Although I couldn't speak a word of French, and he knew little English, we fell in love immediately. I had spent my whole life living and working in the Caribbean, but I soon left everything behind to start a new life with him in France – for love.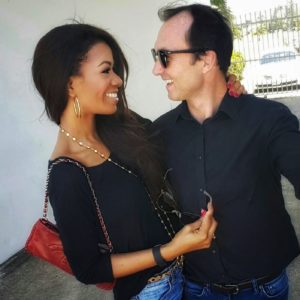 That decision released something inside of me that had long lay dormant but was now ready to bloom. I wanted to create, not just order and plan and arrange. I wanted to observe, not just clinically analyze. I wanted to celebrate and explore beauty in a tangible way. On a whim, I started a 100 day art therapy project, first experimenting with drawing in colored pencils, and pastels and then painting in watercolors and finally in acrylics. The deep longings I had felt were finally relieved when I started painting portraits.
After almost twenty years of not creating any art, my dream deferred was now ready to explode — in a good way!
With my portraits, I take the opportunity to look closer. I am captivated by the expression in the eyes, the subtle variations of color in skin tones. I am entranced by the way the light plays off a cheekbone or a jawline. I am struck with wonder at the kinks and coils in hair. I want everyone who experiences my art to look closer, too. I want them to wonder… What has this person experienced in life? Who have they loved? Where are they going? How much do we share in common? We share love and laughter, pain and sadness. We hope and we dream. We are the same, and yet so brilliantly and beautifully unique.
I create portraits and figurative works in a vivid yet realistic style. My canvases feature the old and the young, celebrated personalities and people you've never seen or heard of. My style incorporates elements reminiscent of the long held traditions of the old masters, but with a decidedly contemporary feel. I am equally inspired by the dramatic effects of light and shadow perfected by Rembrandt, and the bold use of color and individual brushstrokes enjoyed by van Gogh. I try to capture and celebrate the dignity and beauty that unites us all as humans regardless of age, creed or ethnicity.
Making art has become both my passion, and my full-time career. I live full time in Brittany, France, painting commissioned portraits for clients on a full-time basis.