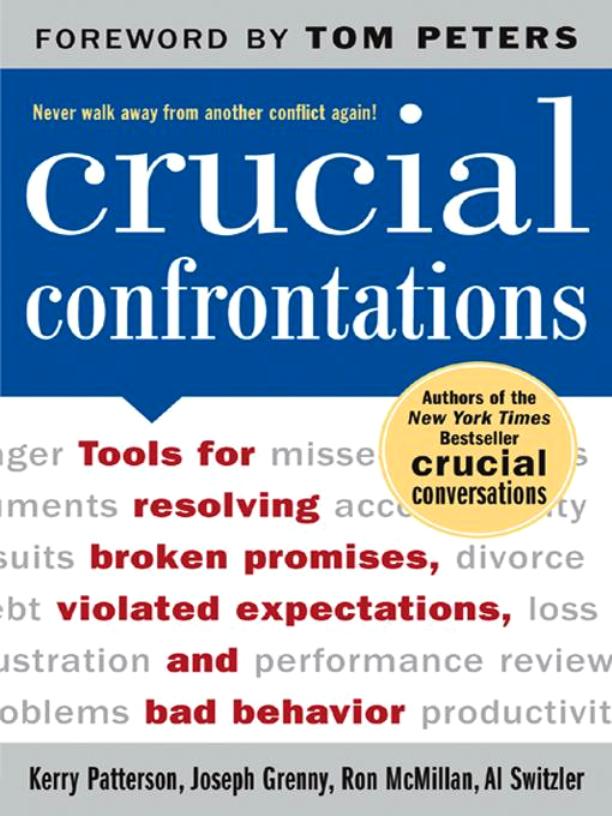 Slightly ahead of my annual goal, I have just completed book number fifty-three for 2012. 'Crucial Confrontations: Tools for Resolving Broken Promises, Violated Expectations, and Bad Behavior
', was released a few years ago by authors Kerry Patterson, Joseph Grenny, Ron McMillan and Al Switzler. The book teaches how to confidently address violated expectations and resolve accountability issues without harming relationships.
The Scenario
[Husband lying on the sofa watching TV.]
Wife: Honey, can you please remember to take out the garbage tonight?
Husband: Yeah
[Thirty minutes later.]
Wife: Honey, are you going to take out the garbage?
Husband: In a minute.
[One hour later.]
Wife: Honey, the garbage!
[Snore.]
How Do You Respond to Bad Behavior?
We have all been there, situations where someone disappoints us not just once, but repeatedly. Your wife takes so long to get herself dolled up that you are late every time you go out together. Your assistant hands in sloppy assignments. Your boyfriend drinks too much and embarrasses you. Your boss screams at you. Your best friend borrows money and does not pay it back.
How do you respond to similar disappointments?
A) You handle yourself with grace and aplomb. You introduce the topic of the broken promise or inappropriate behavior in a safe environment, explain your disappointment, carefully get feedback from the other person and mutually agree on a plan of action.
B) You condescendingly remind the other person that the infringement has now been committed for the two-hundredth and thirty-seventh time.
C) You silently replay your fantasy to strangle him or her and curse under your breath.
D) You grudgingly ignore the first few instances, whine to your friends about it, and then explode like a crazy person when it happens a third or fourth time.
If you answered A, then you're already applying the skills taught in 'Crucial Confrontations'. If you answered B, C or D, then you've done what most modern human beings have been conditioned to do. We respond to conflict in one of two ways–fight or flight.
Crucial Confrontations
The pre-programmed responses do not work. Failing to adequately resolve touchy, controversial or complex issues at work can lead to major organizational problems and can be very costly. Picking fights or ignoring ingrained family problems because we feel ill-equipped to deal with broken rules or failed promises is a common cause of long-lasting family tension and strife. In 'Crucial Confrontations', the authors teach how to skillfully handle sticky situations without resorting to silence or violence. The book explains how to carefully prepare for an accountability session, how to conduct one and how to follow-up so that the behavior does not continue to occur. These skills applied in a disciplined manner will empower you to face the challenges that plague families, teams and organizations and resolve them permanently.
In a coming post, I will discuss some of the valuable lessons from 'Crucial Confrontations' in more detail. If you are struggling with unresolved conflict, I recommend that you read this book right away.